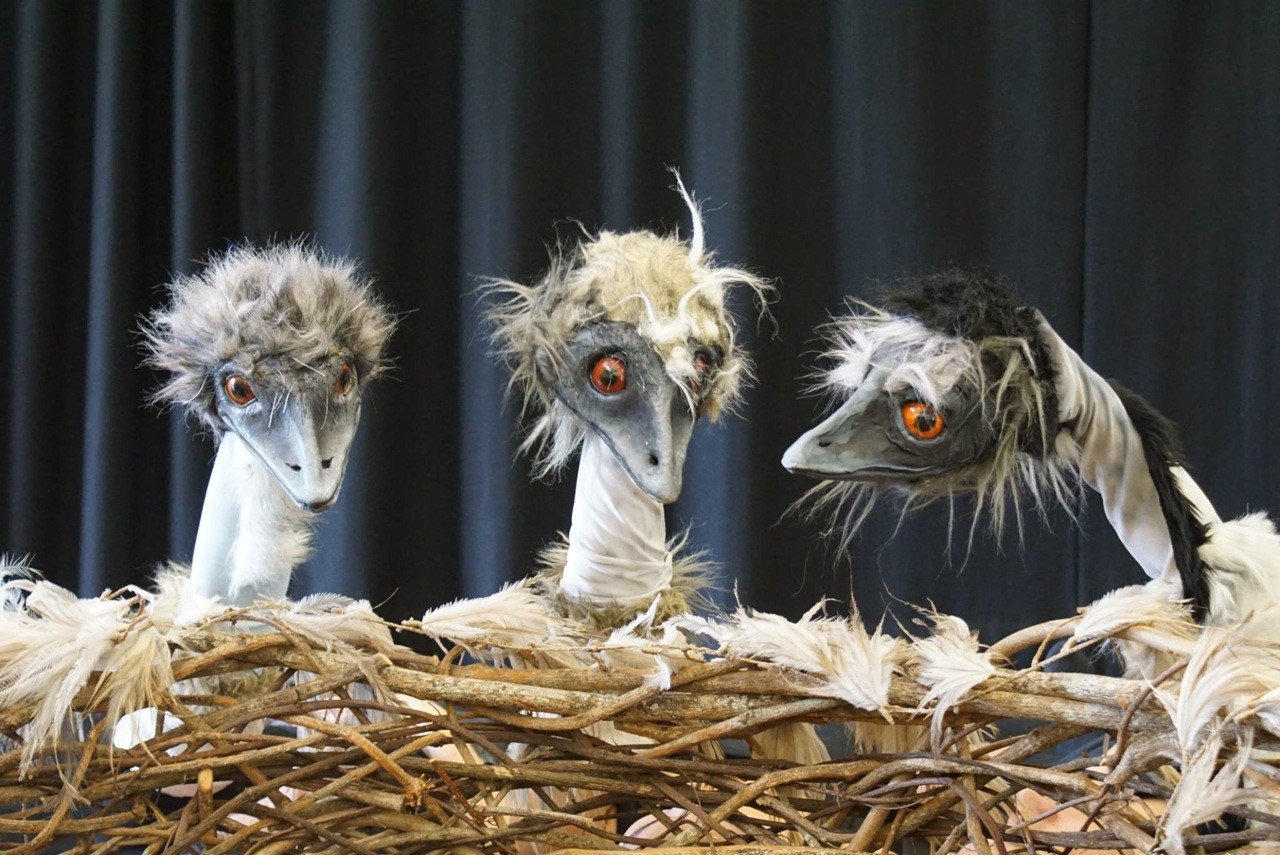 Production Title: Gaurii
Status: Fluid and ready to tour
Artform: Dance
Contact: jo.clancy@bigpond.com
Technical:
- Gaurii has been performed in school halls to date. We often ask to use the floor space and have children sit on the stage if the school stage is small.
- We have performed the show in spaces as small as 4metres x 4metres but it's better in a larger space.
- Wooden floors or tarkett are required
Gaurii begins with a voiceover:
Have you ever found a feather,
And wondered whose it was?
Did you keep it, did you leave it,
Did you put it in your pocket?
Did you think about who lost it,
Did you feel it, did you drop it?
Have you ever found a Gaurii,
And wondered whose it was?
The show then dances stories about Wagan the Crow, Girawi the Cockatoo, Wiridjiribin the Lyrebird, Dinawan the Emu and Mugi the Owl. There's lots of opportunities for children to interact with the show and we invite small groups into the space to learn some of the dances, get painted up and play with our props.
Gaurii came together in 2015 when I received the Birrang Creative Residency funded by Arts NSW in partnership with Ausdance NSW and NAISDA. I spent two weeks with four dancers - Becky Chatfield, Michaela Jeffries, Nadia Martich and Brad Smith and Darug singer songwriter Jacinta Tobin to create the work. The residency offered me time and space to piece together and grow dances I have been developing over many years, as well as the chance to make new movement. Since the Birrang residency Gaurii has been performed in 16 schools and 10 pre-schools across the Blue Mountains and Western Sydney. It has been modified for presentation at the Honolulu Festival in Hawaii and I will present on the work at the World Indigenous Peoples Conference in Toronto Canada in July.
Gaurii is interactive, tactile and colourful and our costumes, puppets and props delight audiences. I would love to share Gaurii outside of school halls and to present the work in regional centre's, interstate and at national and international arts festivals.