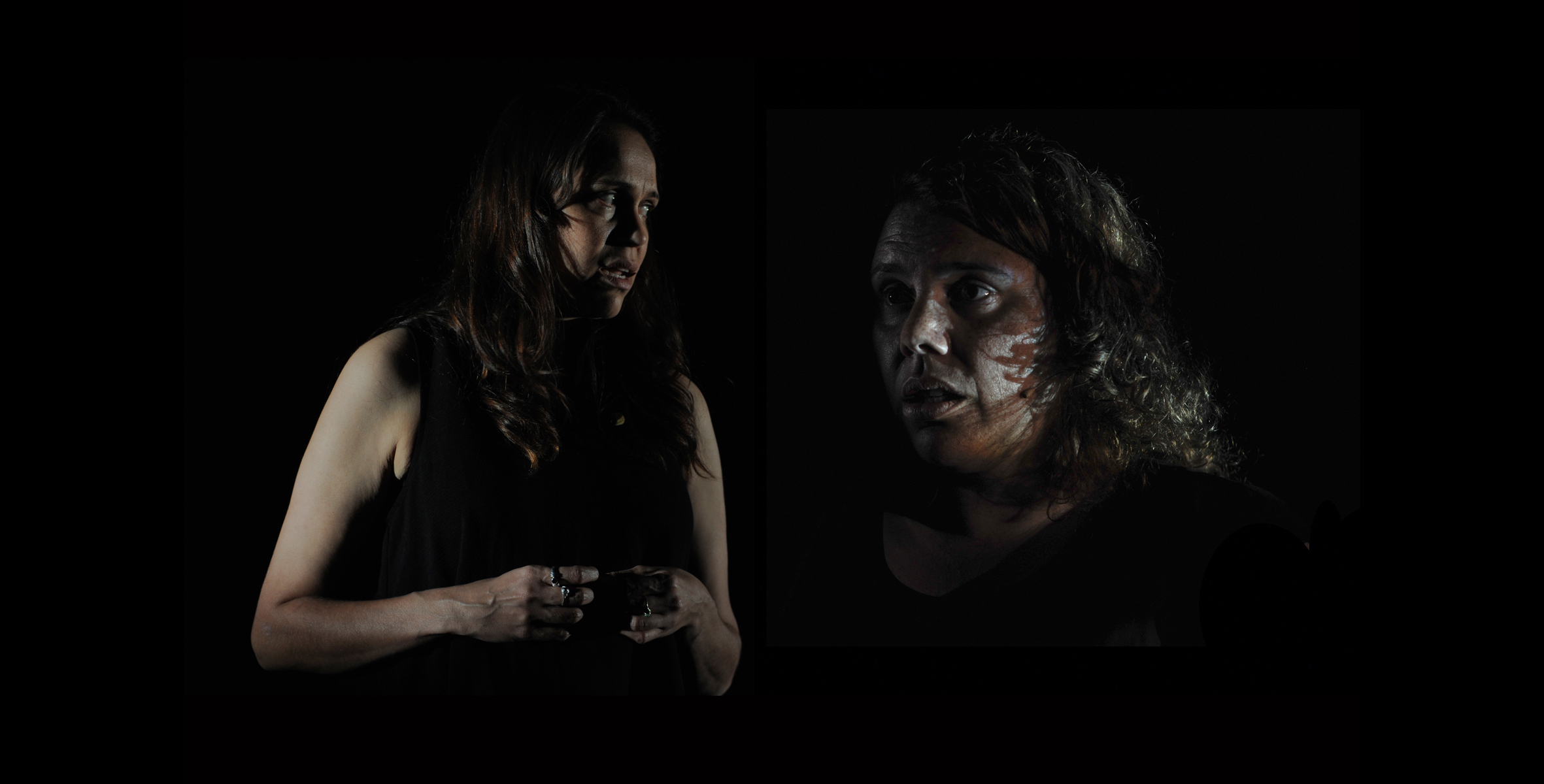 Wiradjuri / Yorta Yorta / Yuwaalaraay
Production Title: Spirit of Things: The Sound of Objects
Status: Ready to Tour
Artform: Theatre
Contact: tulleah@performancespace.com.au
Technical: **Full touring specifications available**
SUMMARY:
60 mins. No interval. Mild strobe-like effects
Sections of the show are performed in language

TOURING PARTY
2 x Performers
4 x Musicians
1 x Director
1 x Company Manager
1 x Production Manager
1 x FOH Audio engineer
1 x Lighting Designer/ Operator

STAGING REQUIREMENTS
The set consists of one 15m (w) x 7m (h) grey gauze cloth. The gauze will need to be suspended on a pipe (supplied by the Venue) that runs the width of the stage and is suspended approx. 2m below a lighting bar. The gauze is gathered along the pipe to suit the length. The trim height of the pipe is aprox. 5m. Approx. 6m upstage of this sits another 1m (w) x 7m (h) gauze that sits suspended directly from a lighting bar.

Downstage of the gauze is the main playing area (aprox 5-6m deep) and the main playing space of the two main performers, Set pieces are minimal and include floor lights, fake speaker monitors plus mic & guitar stands. Upstage of the Gauze sits the band who are in two sections (SL & SR).
ABOUT
A moving sonic response to Indigenous objects and artefacts held in museum collections globally, Spirit of Things is a new music-based theatre work by Nardi Simpson and Kaleena Briggs, members of the award-winning musical duo, the Stiff Gins, in collaboration with renowned British director Felix Cross.

Simpson and Briggs became concerned by the disconnection and distance between Indigenous cultural objects in numerous museum collections and their ancestral country. To the artists, objects such as these are more than mere shadows of the past: they are living entities, buzzing with life. Spirit of Things will awaken these objects, unlocking them through music, stories and performance to reconnect them with their communities and creators once more. This hour-long show subverts the average Stiff Gins gig to interweave song and stories, creating a haunting portrait of the cultural distance that persists in contemporary Australia.

Created and Performed Nardi Simpson and Kaleena Briggs (Stiff Gins)
Director Felix Cross
Designer Lucy Simpson
Lighting Designer Fausto Brusamolino
Video Media Designer Mic Gruchy
Music Director, Guitar, Drums and Percussion Syd Green
Produced by Performance Space

Nardi Simpson
Yuwaalaraay
Founding member of Stiff Gins, writer and performer with Freshwater, language revival vocal group, and member of Biiliirr, a vocal group comprised of Nardi's sisters, Jilda and Lucy. Nardi is a graduate of the Young Indigenous Writers Initiative, NSW Writers Centre's Indigenous Writers Mentorship and finalist in the APRA PDA Songwriting Awards. She was Associate Music Director in The Sydney Festival production of I am Eora and cast member of Belvoir Street Theatre's Don't Take Your Love to Town. In 2016, with composer Amanda Brown, Nardi recorded and produced the soundtrack for the Campbelltown Arts Centre exhibition With Secrecy and Dispatch.

Kaleena Briggs
Wiradjuri/Yorta Yorta.
Diploma in Contemporary Music at TAFE in 2000. Kaleena is a founding member of Stiff Gins touring both Australia and overseas. Kaleena also sings and performs with Freshwater, a vocal group dedicated to learning and reviving the Aboriginal languages of NSW river people.
Kaleena was a featured vocalist on YABUN, Voices with a Beat, performed the 'Welcome To Country' for the Opening Ceremony of the Sydney Olympic Games in 2000 and was a cast member of the 2012 Sydney Festival Production I am Eora. Kaleena holds a Bachelor in Adult Education and currently works at UTS as an Outreach and Recruitment Officer.

Felix Cross
Composer, director, playwright. From 1996 - 2015 he was the Artistic Director of Nitro/Black Theatre Co-op in England. He also produced Nitrobeat, a series of ground-breaking annual festivals as well as A Nitro at the Opera with the Royal Opera House.
Other works include many national and international touring plays for: Albany Empire/South Bank Centre National Theatre, Out Of Joint; Tamasha; Major Road; Nottingham Playhouse, Chichester Festival Theatre, Tricycle, Gate Theatre, Southwark Playhouse, Palace Theatre Westcliffe-on-Sea and Hampstead Theatre; regular music for BBC radio and World Service drama; plays directed for several theatres as well as for BBC Radio drama. In in Australia he has worked with Sydney Theatre Company, BYDS, Glen St Theatre, ATYP and NIDA. In 2012 he was awarded an MBE for services to Musical Theatre.
Syd Green: Music was the veritable nucleus of Syd Green's home from an early age. As a producer, he works with artists he feels have raw, mouldable sounds. He prides himself on marrying each artist's vision with his own ear, and rhythmic expertise. Currently, he lives in Jervis Bay with his wife and son, River.
Lucy Simpson: Lucy Simpson is a Yuwaalaraay woman based in Sydney. She is the founder of design studio Gaawaa Miyay. Through her contemporary work in design Lucy uses visual narratives to connect,share and celebrate aspects of language story, country and contemporary Aboriginal culture. Lucy is a graduate of the College of Fine Arts. Named an honouree of Australian design by the Australian Design Centre in 2015, she is passionate about all aspects of Aboriginal design – past, present and future.
Fausto Brusamolino: Fausto Brusamolino is a lighting and installation designerwho has been working and touring with performing arts productions for nearly 20 years across Italy, Portugal, France, Iran, New Zealand and Australia. Fausto has worked and collaborated with Bangarra,
Opera Australia, Australian Ballet, Sydney Opera House, New Zealand International Arts Festival, Performance Space, MCA, Biennale of Sydney, Post, Victoria Hunt, MAU, and many more. Fausto spends his spare time working on Arduino and Processing projects, playing bass guitar, recording and producing his own music.
Mic Gruchy: Mic's work spans video art, theatre, lm and television. He was awarded an Australia Council Artist's Fellowship for inter-disciplinary practice in 2012. Over25 years he has produced theatrical video designs for all the major companies and festivals around the country and has just premiered a new Indonesian-Australian co-production Age of Bones in Indonesia which is touring Australia in 2017.
SUPPORTED BY